Use the promo code MASTER2023 and get 1320 Kobans!
Hentai Heroes
Play the most popular hentai game on the internet! Thousands of players around the world are connected to Hentai Heroes. Join the adventure for free now!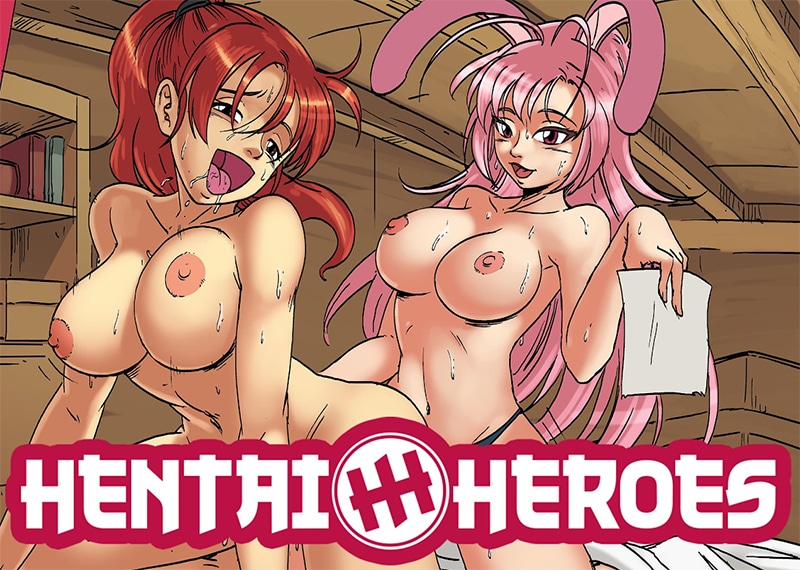 The #1 free online hentai game
Online sex games are becoming more and more popular and contribute to a liberalization of sexuality. There is a multitude of them among which hentai or manga for adults is one of the most appreciated genres. The best productions are distinguished by their quality and especially their realism. This is the case of the game Hentai Heroes, designed in 2D and available for free online. It proposes to realize one of the greatest sexual fantasies, to create a harem. If this is one of your fantasies, discover all the options offered by the game Hentai Heroes to live intoxicating sensations.
Hentai Heroes: a free online hentai game
Also called Harem Heroes, the game Hentai Heroes was designed by the developer Nutaku Games, very famous in the field of adult games. It is a game that is played online and immerses you in a world without taboos where all your dreams come true. In this game, you play as a typical young man with glasses, a bit clumsy, perverted and especially excited about building a harem full of sexy and voluptuous women. Your mission is to satisfy as many women as you can and expand your harem. You must follow an adventure map and pass through different worlds in cities and villages. Each level offers you a different sexual mission.
At the interface of the game, you have different options like the tower of glory, the arena, the Pachinko, the activities, the club, the store, the harem, the profile. Hentai Heroes is an online game that also gives you the opportunity to compete with other players through sexy girl fights and to rise to the top of the rankings. The Tower of Glory gives you an overview of your national and world ranking.
You can also create or join a club to play with other players. The arena is the interface where you can build your fighting team and choose an opponent. Pachinko is a lottery game that you can play for free to win more chips. Harem provides all the details about the girls you have unlocked and their upgrade level. All the options available in the game interface provide specific information or access to different commands.
Presentation of the story and the gameplay
Hentai Heroes is a relatively easy game to play. The game contains a tutorial explaining the basic rules and guidelines to help you as you progress. The gameplay is designed to allow you to quickly get used to using the different features. Hentai Heroes takes you to a fictional world where you can find several famous manga characters, including the cult Dragon Ball or One Piece. Realize your dream of fucking Bulma, Chichi or Nami who find themselves subject to your will.
The plot of the game is rather simple and the scenes focus more attention. Sometimes you have to answer questions, make choices and demonstrate your seduction skills. You start the adventure with 3 or 4 girls in your harem. Hentai Heroes offers good gameplay and offers players an immersion in a fictional universe filled with women who only want you.
About the game
What is striking about Hentai Heroes is first of all the care given to the characters' drawings. Their features and all the important details are perfectly done. The women you meet in this game are all very beautiful, naughty and especially hot as hell. They are all young girls with prominent breasts and bountiful buttocks, not to mention the main character who is particularly well hung.
As you progress through the game, you'll unlock sexier girls, with more flirty outfits. As we mentioned, one of the strong points of the game Hentai Heroes is its realism. This sex game offers the perfect combination of literally having fun and being entertained. The design is faithful to the manga style with very colorful drawings. The settings and landscapes refer to several references that otaku will recognize quite easily. The girls' outfits are quite well chosen and up to your wildest fantasies.
The animation is in 2D with a rather convincing rendering. However, it can become boring at times during the fights. That's why there is a "skip" option to quickly see the result. The quality of the assembly is quite impressive and shows once again the professionalism of the developer Nutaku. The sounds chosen are adapted to each scene and immerse the player in a warm and intimate atmosphere. These sounds are tendentious and you must watch in a discreet place or by putting for example headphones if you are in a public place.
Sex scenes in Hentai Heroes
Hentai Heroes distinguishes itself from many other games of the same type by its hot, varied and very original sex scenes. The gameplay allows to be always pleasantly surprised during a new scene. There are almost all positions and preferences in sex. We have among others the 3-way shots, the orgies, the fetishism, the domination or the sadomasochistic pleasures.
Doggy style scenes are the most common. You will be pleasantly seduced by hot and surreal scenes that may exceed your imagination. Hentai scenes are present in all modes of the game, both in the harem and in the story mode. Sometimes your character will get the better of all those sex-hungry women and sometimes not. You have enough energy to rise to the occasion. You can also acquire more points or items to earn their affection. Each girl has a different personality and statistics. They can be very wise, shy or rather wild, depending on your wishes.
Is Hentai Heroes available in English?
Simply put, yes, Hentai Heroes is available in English!
In online sex games like Hentai Heroes, every detail count. The narrative, the dialogues and especially the expressions of pleasure exchanged by the partners during sex are essential to enjoy the entertainment. Hentai Heroes has the particularity of being completely available in English. You will not miss anything of all the scenes. Hentai Heroes is also available in French, Japanese, German, Italian, Spanish and Portuguese. And new languages will certainly be added in the future.
Is Hentai Heroes free?
As surprising as it may seem, Hentai Heroes is a free-to-play game, which means it is totally free. It is easily accessible online and does not require a long registration and confirmation process by email. No credit cards to be used before playing. This game offers you the possibility to accumulate winnings throughout your progress in order to improve your avatar. Only some additional features offering facilities such as faster progress require the purchase of credits. These are optional paid features.
If you are looking for a really free hentai game without a credit card then Hentai Heroes is for you!
Credits prices on Hentai Heroes
To progress and better customize your avatar in the game Hentai Heroes, you must collect the maximum of coins or tokens throughout your progression. For those who are in a hurry, there is the possibility to buy in the virtual market of the game tokens with real money. The prices differ depending on the number of coins you wish to buy.
600 coins for $6
1320 coins for $10
2760 coins for $20
7200 coins for $50
15,600 coins for $20
You can also choose one of the two monthly subscriptions offered. They entitle you to a certain number of coins, benefits and even discounts. You can opt for the "Silver" subscription at $21/month, which entitles you to 1,800 coins and the special "Collect All" feature. There is also the "Gold" subscription costing $64/month and allowing 4500 coins. The Gold subscription, on the other hand, allows you to take advantage of even more free features, such as the "wicked performance x10" and "league performance x15".
A hentai game with no download
One of the biggest advantages of the Hentai Heroes game is that it is available without downloading. This means that you don't need to download and install any special software before enjoying this game. All you need is a browser with flash technology. A no-download game like Hentai Heroes saves time and storage space. By using a browser, it is therefore possible to play Hentai Heroes from a smartphone or tablet and enjoy the same options as on a computer. Players can therefore access this game anywhere, even on the move. However, you must have a good internet connection. The game is also available as a mobile application that you can download if you prefer.
Whether you are on a PC, Mac, Android or iPhone you will be able to play Hentai Heroes without any problem.
Hentai Heroes review
Hentai Heroes can be considered today as the reference in hentai games. It gives you the opportunity to have a harem full of sex slaves devoted to your sole pleasure. All the fantasies that bubble up in your imagination find an echo in this world full of sexy and candid women. This is one of the top-rated hentai porn games in the US, UK and even Australia. For all the fans of online adult games who didn't know about it yet, Hentai Heroes is a wonderful production that you must discover. It is a captivating and exciting game that offers you exceptional entertainment. To become the greatest hentai hero, don't hesitate to use our Hentai Heroes promo code.